Scotia Cycle opened it's doors in July 2022. Our goal is to provide the communities around Hubbards and Chester, NS with professional, reliable bike service and repair and offer a broad selection of the best bikes, parts and accessories on the market. 
Our trailside location, great coffee and easy access to the Aspotogan Peninsula (our favourite ride!) make us a great destination for cyclists making the ride from Tantallon, Chester, Halifax and for visitors from away.

We are a small, family owned business with a passion for bikes and growing the sport in our local community. 
With great service, reliable repairs and a wonderful selection of bikes, parts, accessories and apparel; we want to become your local bike shop. 

Ride on!
Hours of Operation (Spring)


Monday - Closed
Tuesday - 12pm - 4pm
Wednesday - 10am - 4pm
Thursday - 10am - 4pm
Friday - 10am - 6pm
Saturday - 10am - 4pm
Sunday - Closed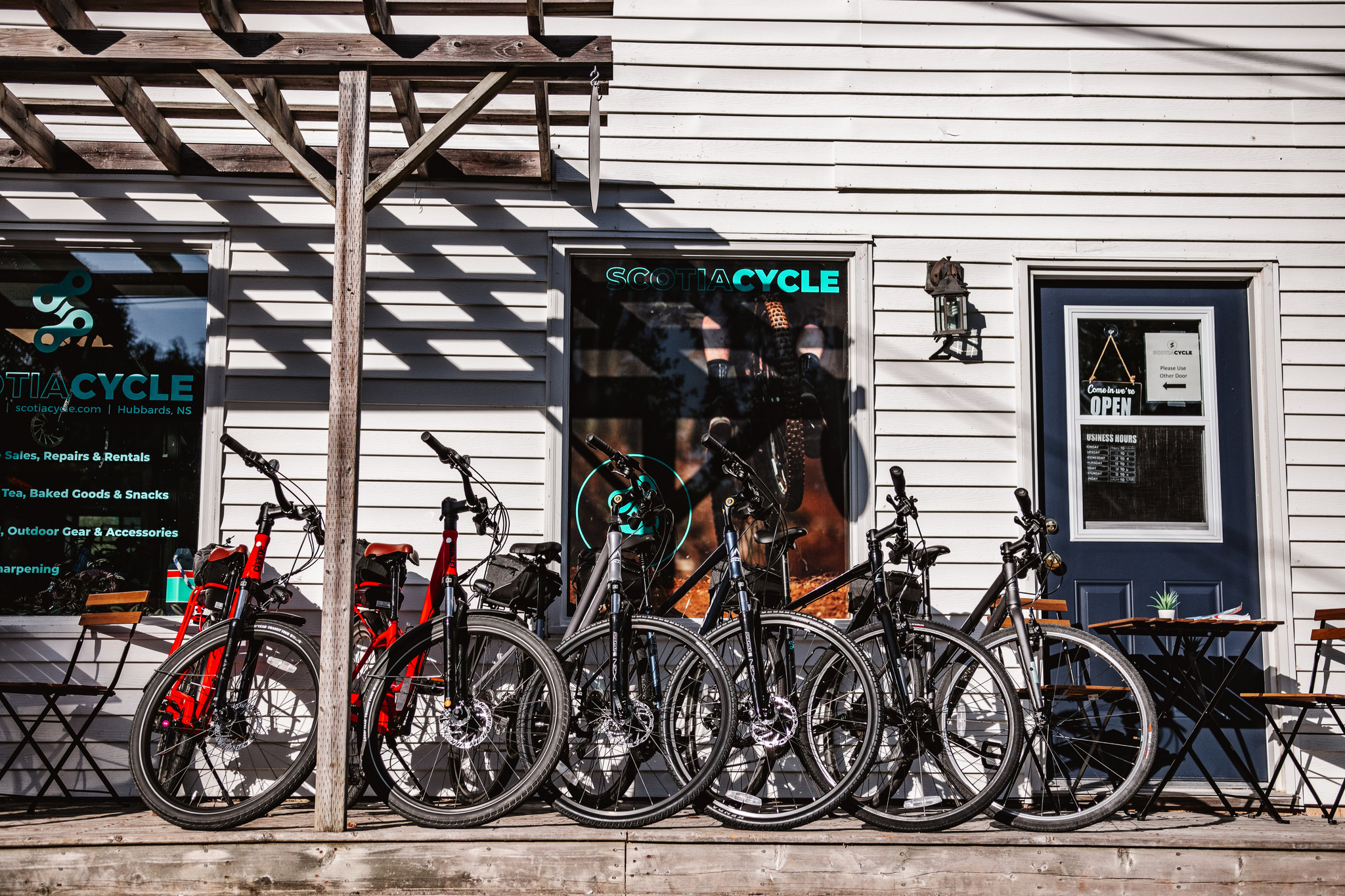 Why Choose Scotia Cycle
Our clients are people just like you—those who share our passion for biking and the great outdoors. We understand that you're not only looking for a reliable bike shop but also a welcoming environment where you can receive expert advice, rent or purchase bikes, and have your bicycle serviced by experienced professionals.
At Scotia Cycle, we're dedicated to helping you explore the captivating Hubbards area on your bike, providing you with endless opportunities to connect with nature and experience the freedom that comes from cycling. We cater to cyclists of all experience levels and are committed to making your biking journey enjoyable and fulfilling.
Rediscover the Joy of Biking
The joy of biking is about more than just exercise—it's a way of life that connects us to the world around us. It's the exhilarating feeling of the wind in your face, the satisfaction of conquering a challenging ride, and the pleasure of discovering new, breathtaking landscapes. At Scotia Cycle, we aim to help you embrace this joy and create lasting memories with friends and family as you explore the wonders of the Hubbards area.
Community Connection
We believe in building strong connections within our community and serving as a resource for all things biking. By choosing to support Scotia Cycle, you're not only investing in a local business but also contributing to the growth and sustainability of our beautiful region. We're proud to be an integral part of the Hubbards biking community and invite you to join us in our quest to promote and celebrate the joy of cycling.
Your Adventure Starts Here!